The Finnish Foreign Minister Ville Skinnari visited LAPP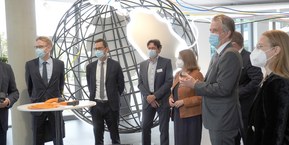 Last week (7.10.) LAPP Group's European headquarters in Stuttgart had international visitors. The Finnish Foreign Trade Minister Ville Skinnari visited LAPP, accompanied by a delegation from the Finnish Ministry of Foreign Affairs, the Finnish Embassy in Berlin and the Stuttgart Chamber of Commerce.
Alexander Lapp, Karl Heckl, Frank Hubbert, Miroslav Ivankovic and Tobias Rueck warmly welcomed the guests in Stuttgart.
One of the discussed topics was the new product which will be launched in 2022, MOBILITY DOCK.
Mr. Ville Skinnari sees great market opportunities for the product in Finland where E-mobility is currently a trend. Even though Finland is gradually expanding the charging infrastructure, travelling long distances with an electric car is still a challenge. The new MOBILITY DOCK could be of great help when charging on the go is the issue. Thank you for your visit!
Learn more about the MOBILITY DOCK here.