The new Children's Hospital
Our products in the project: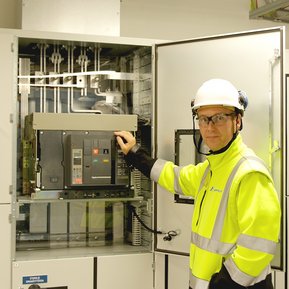 The new Children's Hospital was commissioned in summer 2018. Lapp Connecto participated in the construction project by delivering and installing bus ducts in the hospital.
Electrical work in the building was carried out by Amplit Oy, a long-standing partner of Lapp Connecto. Lapp Connecto was selected as a supplier in the competitive tendering process for the construction of the Children's Hospital. The submitted tenders were ranked in terms of quality and cost, with Lapp Connecto emerging as the choice suggested to the constructor.
- Lapp Connecto's strengths are in the security of delivery and competitive prices. Security of delivery is of utmost importance to us, since project schedules are tight. Over the years, I have learned that the secret to good collaboration is to have people know each other well. A long-term business relationship forms ties that make collaboration easier. It is great that Lapp Connecto's contact persons have stayed the same over the years, says Tomi Alanen, Technical Director of Amplit Oy.
The busbars for the Children's Hospital awere designed and manufactured by Lapp Connecto, and were installed in July-August 2017. The hospital environment poses special demands for magnetic fields around busbars.
- In my opinion, Lapp Connecto has a strong position of such busbars on the Finnish market. One of the things that sets Lapp Connecto apart from other operators is their installation service. Being able to obtain both busbars and their installation from the same expert supplier creates added value for the project," says Alanen.
The Helsinki-based Amplit Oy is one of the ten largest building technology contractors in Finland. In Finland, 'building technology' refers to the technical systems that create comfortable conditions in buildings: heat, water, ventilation, air conditioning, light, electricity as well as information and security systems, including all devices required for controlling and monitoring such systems.