Case Normet - fully customized solutions
Fully customised solutions
In the design and implementation of mining equipment electrification and radio equipment, rapid response and adaptability are priorities. In cooperation between Normet, Lapp Automaatio and Lapp Connecto, the parties openly discuss how something can be improved - this benefits not only the parties but also the end customer.
Lapp Automaatio and Lapp Connecto, together with Normet, have been designing and manufacturing mining and tunnelling equipment to meet customer needs since 2008. The cooperation started when Normet, a developer of complete technical solutions for underground mining and tunnelling, was looking for a competent and reliable supplier of radio controls and wire and cable harnesses for its mining machines.
Normet is a specialist in equipment for challenging conditions, with machines custom-built to meet the detailed needs of each customer. Adapting to customers' needs requires special expertise from a supplier of electrical and automation products.
No off-the-shelf solutions
The Hetronic radio controllers supplied by Lapp Automaatio are designed entirely to Normet's specifications and requirements. The controller housing, fixtures and connections are made entirely with the application in mind, so that the product meets the requirements specified by the customer.
According to Kari Ulmanen, Normet's chief designer for control system components and electrical design, flexibility is a key factor in responding to customer requirements.
"In practice, our account managers respond to customer requests. There may be more than just the customer's own needs, such as changing emission regulations in the destination country. After listening to customer feedback, new solution specifications are drawn up," says Ulmanen.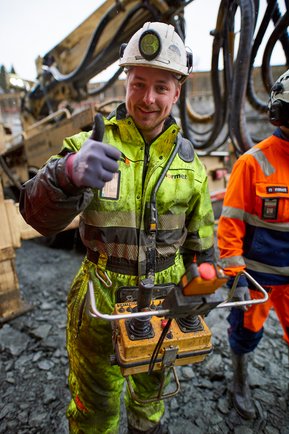 Saving time and money with expertise
The actual product development is a detailed design process, outlining all the elements from the machine housing design to the necessary wiring harnesses. After the test runs and any changes identified, the machines move on to customer use, where they are often subject to final modifications. A completely final version is never produced, as virtually every machine order is tailored to the customer's needs.
The timeline for manufacturing a machine for demanding conditions is long - several months are spent in the specification phase before the basic design is started.
"In Normet's radio remote controls, customization of devices has been taken to a very advanced level, and machine-specific needs are taken into account very precisely. When designing a new machine model, drawings move back and forth, rather than just having a list of specs to work roughly with. The cooperation has worked well," says Juha Peri, Product Group Manager at Lapp Automaatio.
Knowing materials and manufacturing methods helps the customer find the right solution during the development phase. Pasi Vesterinen, Key Account Manager at Lapp Connecto, says "Our product experts can suggest substitute materials or manufacturing methods that can save our customers money or get their products delivered faster."
Thanks to Lapp Connecto's agile and flexible delivery, the company can deliver ready-made wire and cable harnesses within the same day if required.
"It's all about communication. We keep in touch with Normet reps and hold monthly meetings to stay on top of customer needs. Currently, Lapp Connecto experts are working with Normet designers on a joint project to streamline product design," says Vesterinen.
Practicing immediacy and trust
The fact that a Lapp expert can visit Normet's factory, for example, shows how good the partnership is. Ulmanen calls the relationship flexible and close.
"The fact that LAPP anticipates unexpected demand for components from us shows their flexibility. We've been happy to rely on them to take care of our urgent needs."
Sometimes plans have to be changed quickly. At LAPP, each unit has a clearly defined contact person, so it's easy to make changes. Machines will also need to work autonomously in the future. The increasing number of automation and IoT solutions also requires automation and electrical component suppliers.
"Our communication remains open and continuous throughout the entire product development process. We greatly appreciate LAPP's feedback on our ideas and their proactive approach to exploring alternative design solutions. Ultimately, both parties benefit from making it easier to create different solutions," lauds Ulmanen.
Want to know more? Contact Pasi for more details, and how we could adjust our services to your needs!