Case Sampo Rosenlew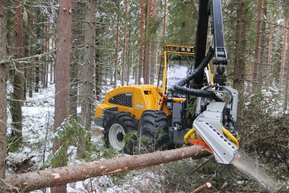 Sampo Rosenlew – collaboration during development paved the way to the sharing of expertise
Our collaboration with Sampo Rosenlew is based on our flexible and cost-effective comprehensive solutions for Sampo Rosenlew machinery.
"Our collaboration started small, but expanded as time went on. We wish to partner with our customers from prototype to production. For example, our sourcing service and agility helps the customer to achieve the best results possible. Our flexible operating model also optimises the customer's need for storage, which directly increases profitability.", says Juha Heiskanen of Lapp Connecto.
Lapp Connecto has delivered wiring systems and cable sets for Sampo Rosenlew's COMIA combine harvesters since 2014. In 2016, Sampo Rosenlew launched an entirely new harvester, the HR46X. During its development, Lapp Connecto brought their own development expertise into play, which deepened the collaboration further.
"We collaborated with Lapp Connecto at the prototyping phase. This enabled us to test and develop wiring systems and cable set solutions with great flexibility throughout the design phase. In the future, we will definitely utilise Lapp Connecto's sourcing expertise and ability to produce large-scale systems. High quality and continuous development drives both companies towards superb-quality products," says Lasse Rahkola,Purchasing and Logistics Manager of Sampo Rosenlew.