Career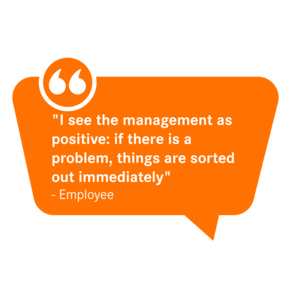 People are our heart, truly. ❤️
It's a proven fact that at Lapp Connecto people enjoy their work. The staff survey highlighted good team spirit and working atmosphere, good and fair leadership, regular daily work, continuous improvement of working methods and work, and open communication as particularly positive aspects.
The fact that our careers are quite long and that we have the opportunity to develop, broaden and deepen our skills on an ongoing basis is also a sign of satisfaction.
We invest in skills development and in the professional development of our people. We offer training, on-the-job learning and job rotation not only in LAPP Connecto but also within the LAPP Group. We have many examples of how an assembler has progressed to become a manager or to a deep expert in his or her field.
As a family business, we take care of our people and offer employee benefits that support well-being, including:
Comprehensive occupational health care in Suomen Terveystalo
Finnish health and wellness benefits (dentist/massage)
Sports benefits
Physiotherapy
One LAPP - one big family #OneLapp
We are part of a large international LAPP group, which offers its staff interesting opportunities and things to do together, also outside Finland.
We encourage internationality and, depending on the job, we encourage you to get to know other units around the LAPP world.
We combine these two qualities at their best: the interesting opportunities of a large group and the simplicity and caring atmosphere of a local company.
So take a look at what jobs are available in our different locations, check out our vacancies or send us an open job application. We are interested in you and we warmly welcome you to the LAPP family! ❤️