Apprenticeship training opened the door to a dream job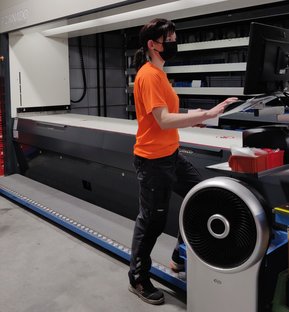 Apprenticeship training opened the door to a dream job – Salla's journey from wiring system assembler to team coordinator
Are you a student, a recent graduate or considering a career change? Meet Salla Malinen, who has progressed from an assembler of wiring systems to a logistics team coordinator. How did she end up in her dream job? Get useful tips from Salla's career story.
Hi, my name is Salla!
I'm a mother of two and originally from Vieremä, which is famous for Ponsse forest machines, and I was born in 1985. I've lived all my life in this small, but vibrant village. I love rambling in nature – and especially in the spring, the best time for it. So in my free time you'll find me jogging in the woods with my dog, doing bodyweight workouts, and occasionally going to the gym – although the coronavirus pandemic has made this a bit challenging.
From comprehensive school to business school and a job at a supermarket
I went to school in Vieremä, and left after year nine. I enrolled as a business student at the North Savo Vocational Institute, specialising in customer service and marketing. I completed the compulsory work experience at a local supermarket and continued there over the summer. But after graduating from the vocational institute, I changed jobs and, for the next four years, worked for a larger department store.
A complete career change
In July 2008 I made a complete career change! I started as an assembler of wiring systems at SKS Connecto, which has since changed ownership and is now Lapp Connecto. Although I had no previous experience in the field, I kept an open mind and a positive attitude, and due to thorough training I learnt a completely new skill.
Assembling wiring systems
I spent about eight years in the assembly unit. My job included assembling wiring systems according to the instructions and diagrams, and also making the enclosures. I enjoyed the job and the tasks were rewarding, varied and interesting, and still are. I learnt a lot about different components, which has proved really useful in my current job. Our team members are always in good spirits, encouraging one another – just like a family.
New customer service duties in the warehouse
I had shown interest in transferring to the warehouse, if any vacancies opened up. I really wanted to get back into customer service, which warehouse work is, at its best. I gained a position there in 2017, and that's where I developed a new interest in logistics.
Further qualifications through an apprenticeship
In 2018, I was offered an opportunity to start apprenticeship training in warehousing. So, alongside my job, I studied for a further vocational qualification in service logistics, completing it in December 2020. With this qualification, I gained new knowledge and skills in warehousing and the right to conduct statutory shelf inventories and to serve as a forklift driver instructor. I learnt an enormous amount about storage cycles, key indicators, and modern methods, tools, machinery and equipment.
Managerial duties
In 2019, before I graduated, I was offered my current responsibility as a team coordinator in logistics, which I happily accepted. My job is to manage my department's resources, depending on the daily situation. I allocate duties, solve problem situations, manage the day-to-day business between my department and the office and, if possible, I also participate in daily tasks such as the reception and location of goods, as well as collection, dispatch and stock balancing.
Salla's outlook on life
After thirteen years of service, I find working for Lapp Connecto to be inspiring, encouraging and diverse. There have been just the right amount of challenges, and each day is different and brings something new. I feel that a proactive and positive attitude, combined with training, helps one to go really far. Whatever you do, do it with joy and keep your spirits high!