Busbar trunking systems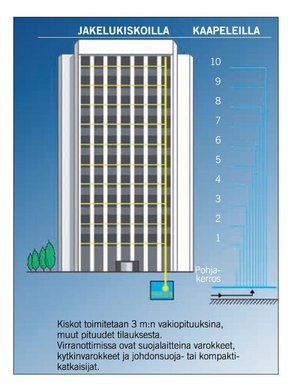 What is a busbar?
Busbars trunking systems distribute electricity and usually have separate outlets. By connecting tap-off units to the outlet, you can take out electricity from the busbar.
Invest smartly in new or renovation projects
A busbars trunking system is a sensible investment with reasonable operating costs. If necessary, the placement of devices in production premises can be changed and supplemented flexibly, which minimises disruptions to production, power distribution and operation.

For added value, the different energy systems, such as conduits for raw materials, compressed air, welding gases and cooling water can be mounted on the same brackets.

Furthermore, the high degree of prefabrication of the trunking busbar systems and applications significantly shortens the turnaround times of electrification projects. Busbar trunking systems can be installed in residential, commercial and office buildings and data centres during their construction or renovation. Busbars are increasingly used as vertical risers in buildings.
The benefits include:
Clarity of the system and a small space requirement.
Flexibility and adaptability of the system.
Less cable insulation means less fire load.
Long riser cables are not needed.
The size of main switchboards is reduced and the need for riser distribution boards is eliminated.
Lighter and fewer cable racks.
The busbar can be used for power distribution during construction.
The busbar system can be integrated with a centralised power consumption measurement system.