Work safety first at LAPP Connecto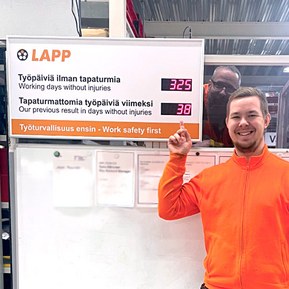 For Lapp Connecto, Work Safety first is not a meaningless saying. The starting point is always that the working environment is safe for employees, external guests, and contractors alike. To this end, we have developed several measures to improve work safety and, most recently, we installed counters at our Finnish sites to show everyone visually how long we have been able to avoid accidents at work.
Transparency also creates responsibility
- It is important for us that key KPIs are transparent, such as the time intervals for accidents at work. This is one example of how we bring transparency throughout the organisation, and remember to all take care of our work community," says Jyri Kontio, CEO of Lapp Connecto.
Active health and safety organisation is key
Lapp Connecto has an excellent health and safety organisation, and this year Samuli Savolainen took over as Health and Safety Manager. "This new role is a great opportunity to further develop our processes. For example, we are investing in the certification of our operations and the next step on the horizon is ISO45001," Samuli says.
Together towards a safe working environment
Lapp Connecto has several different operations in different locations. There is wire harness and cable harness production, busbar manufacturing and testing, central manufacturing, logistics. Good ideas are briskly put forward for distribution, regardless of location.
- We have several hundred visitors every year," says Rauno Martikainen, the occupational health and safety officer at the Lapp Connecto Vieremä factory. In factory conditions, it is important that visits are always safe for everyone. We came up with the idea of a separate safety instruction booklet, which is the first thing every visitor receives when they arrive at our plant," Rauno says. The idea, which proved to be a success, was immediately replicated at all our locations.
- This is a great example of how each of us has an important part to play in improving our working environment. From an idea to a new way of working, Samuli is delighted. We will continue to welcome ideas and suggestions, he concludes.
Interested about a career at LAPP? Check out more here, and also check out our employee stories on YouTube.