LAPP plants a primeval forest in Finnish Lapland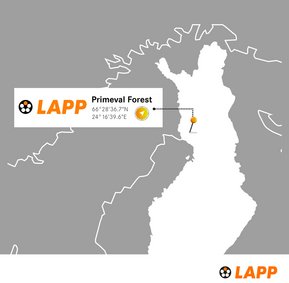 LAPP Group is known for its sustainability. The Finnish LAPP companies wanted to contribute to society by growing their own, LAPP ikimetsä - primeval forest, in the municipality of Ylitornio, Finnish Lapland. SunSilva Oy was selected as a partner. SunSilva Oy is a family business operating from Taivalkoski, whose business is the production of nature works of various sizes. The forest cultivation will begin this summer.
A forest grown together is meaningful for every employee
-This project is very important to us as part of our sustainability. Ikimetsä, a primeval forest, in Finnish Lapland was a natural choice for us, as the place is dear to Finns. The forest is grown through various internal activities, so every employee can proudly say they helped in growing it. And in the future, we also would like to involve our customers in the project. In the first year, we aim to plant 1,000 trees with various internal activities, says Paula Lindelöf, Marketing Manager.
- At the start of this project, we challenged the entire LAPP Nordic Cluster to plant the forest, and we are very much looking forward to seeing how many trees we can grow together.
Primeval forest will contribute to the fight against biodiversity loss

The #Ikimetsä - primeval forest afforestation project, will become a natural reserve once the trees have been successfully seeded. Thus the trees will never be felled for forestry! The LAPP primeval forest will provide a sheltered place for forest animals. In addition, it will contribute to the fight against biodiversity loss and climate change, among others. Every tree counts!