From supplier to partner – with ÖLFLEX® CONNECT
Nowadays, it is not enough to see yourself as a supplier to your customers. Customers want long-term partners who know their problems and offer suitable solutions – just like LAPP with ÖLFLEX® CONNECT. The global market leader for integrated cable and connection systems supports customers in solving problems as their partner and always thinks about process improvements.
An increasing number of customers order individual cable assemblies from LAPP, from servo assemblies to pre-assembled cable chains. The time-consuming assembly of electrical connection systems, which takes hours, sometimes even days, for a machine, is therefore no longer required for customers, as the required set is delivered pre-assembled. The on-site fitters simply need to hang the ready-made assemblies and connect the plugs – everything is the right length, the right connectors are in the right place, the set complies with the usual LAPP quality and has already been checked and approved by the experts from the connection specialist. Customers also have less to do when selecting individual parts. Ordering requires fewer items and is done from a single source. Delivery is just in time upon request, which saves storage space and costs.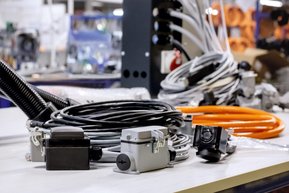 Complete assembly in up to 48 hours - case Sumitomo Demag Plastics Machinery GmbH
"With ÖLFLEX® CONNECT, we can concentrate on our core business", said Gerd Liebig, CEO of Sumitomo (SHI) Demag Plastics Machinery GmbH, a manufacturer of injection moulding machines in Schwaig near Nuremberg. LAPP has taken over the complete assembly of the cable sets for the new generation of the fully electric IntElect series since 2017. At the time, Sumitomo, the market leader in the field of fully electric injection moulding machines, had decided to double its production and wanted to outsource non-value-added activities, such as cable assembly, in order to concentrate on its core competencies. "We were looking for a partner who could handle the complete assembly for several machine sizes – in batch size 1, quality tested and just in time", emphasises Liebig. LAPP now makes deliveries to Sumitomo every day, and the time between placing an order and delivery is just 48 hours.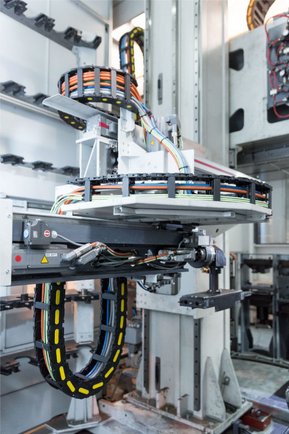 Active role in the development process - Case SEW Eurodrive

The list of successful projects is long and new ones are constantly being added. ÖLFLEX® CONNECT customers include Bystronic, a manufacturer of machinery for glass production, and SSI Schäfer, a manufacturer of Logimat storage towers. ÖLFLEX® CONNECT is now well known in many industrial sectors – including customers abroad. LAPP is set up all over the world with sites in Europe, Asia and America, and offers global quality standards in engineering, consulting and production expertise. But what is less known is that LAPP is actively involved in the development process.
Just like Toshulin. The large carousel lathes from the Czech Republic can be found in the aviation industry at the engine manufacturers General Electric or Rolls Royce. SEW Eurodrive uses them to produce gears for wind turbines. LAPP in the Czech Republic supplies pre-assembled cable chains with cables and connectors for the BASIC-Turn and FORCE-Turn machine types, both made of nylon and steel, as well as hybrid constructions made of both materials. Steel chains were a novelty for Toshulin. Its previous supplier did not have them in his range. Around 10 years ago, LAPP received design documents from Toshulin for a cable chain for which it was to supply the cable. In doing so, the experts from LAPP discovered a design fault and made an alternative proposal that saved space and increased the durability of the chain. The technicians at Toshulin were very satisfied, as the cable chain proposed by LAPP promised higher performance and significant time savings. The ready-to-install cable chains from LAPP are significantly speeding up the production process today. Frantisek Omasta, Sales and Engineering Manager for ÖLFLEX® CONNECT at LAPP in the Czech Republic: "The procurement process is becoming simpler, the entire chain only has one part number". And most importantly, the know-how lies in the selection of suitable cables and plugs and in perfect interaction with all components.
Also with parts from third parties

But what if customers need a solution that is not based solely on LAPP products? This happens because even the LAPP product catalogue with its 40,000 individual items cannot cover all possible applications. Or customers of customers dictate components from certain manufacturers. Standards in certain industries may also need to be adapted to other manufacturers. Then the wheat is separated from the chaff. While many "solution providers" then turn away, LAPP has the ambition and expertise to find exactly the solution that the customer needs – even with third-party products and as hybrid cables combined with hydraulics and pneumatics, i.e. components that LAPP does not have in its portfolio.
"We see LAPP as a sparring partner that brings in its own ideas", says Pavla Borovianova, Market Manager for ÖLFLEX® CONNECT. Can components of the connection solutions be optimised or manufactured modularly? Where can standards be used and how can the number of suppliers be reduced? Borovianova: "We use the findings from the needs analysis to develop recommendations for process optimisation, for a redesign or the development of new cable systems".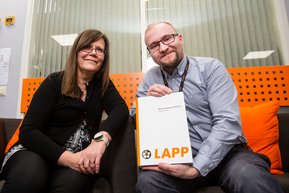 Cable experts at your service
"With many of our customers, we have been in active dialogue for years, with our experts involved according to the customer's needs, from the technical specification up to the customer's production line." Päivi Mahlamäki-Salminen, Sales Manager at Lapp Connecto says.

Lapp Automaatio's range of servo assemblies and cable harnesses are part of the ÖLFLEX® CONNECT family.
"Lapp Automaatio offers ready-made servo cables according to the most common standards, which include Siemens, SEW, Lenze and Rockwell. The cables are made with decades of experience from high quality components and are delivered tested." says Ossi Welling, Sales Engineer at Lapp Automaatio.
"Comprehensive cable harness solutions are also possible through Lapp Automaatio. The chains are available in plastic, steel, or a combination of both. If required, the cables can be pre-installed with their connectors on the chain, making installation quick and cost-effective." Ossi adds.
At Lapp Connecto, expertise is focused on taking on an even bigger picture. "When we talk about cable and wire harness manufacturing, or electrical assemblies, we are talking about total supply chain expertise. In this case, the customer delegates the management of one subcontracting chain to us, and we take care of the finished package for the customer, with the necessary components. Another strength of the LAPP Group is its network of several manufacturing countries. "Connecto already has factories in three different locations. The manufacturing country is chosen together with the customer so that it is cost-effective and sustainable." Päivi explains.
LAPP has offices all over the world, in Europe, Asia and the Americas, and offers global quality standards in design, consulting and manufacturing expertise.
"Our clients really do have a global partner and thousands of experts around the world at their disposal", Päivi sums up.
For more information, contact our experts:

Cable and wire harnesses and electrical switchboard assemblies: Lapp Connecto, Päivä-Mahlamäki Salminen, +358 5030 19697, Paivi.Mahlamaki-Salminen(at)lapp.com
Servo cable assemblies and cable harness supply, Lapp Automaatio, Ossi Welling, +358 20 764 7536, ossi.welling(at)lapp.com