Special enclosures, distribution boards, assemblies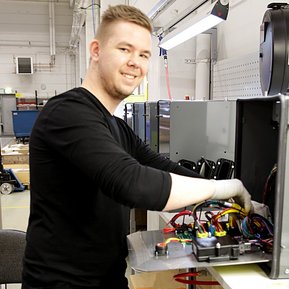 Lapp Connecto manufactures tailored, high-quality and reliable I&C distribution boards. Our customer-centric approach is based on measurable customer experience and our wide-ranging expertise in several industries and a multitude of operating environments.
Lapp Connecto's technical expertise ensures that the manufacture of our products is always compliant with the applicable standards, such as standards for marine or food industry applications.
We serve our customers both nationally and internationally. Our manufacturing plants are located at Hyvinkää, Vieremä and Poland. Distribution boards can be manufactured to individual order or as product-specific deliveries.
Our products:
Field enclosures
Control centres
Control desks
Control panels
Terminal block enclosures
Electromechanical device assemblies
Energy chains
Elevate Your Cabinet Building Experience with Lapp Connecto's Expertise
At Lapp Connecto, we specialize in crafting customized, high-quality, and dependable Industrial and Commercial (I&C) distribution boards. Our unwavering commitment to our customers is founded on delivering measurable customer satisfaction, and our extensive experience spans multiple industries and diverse operational settings.
Why Choose Lapp Connecto for Your Cabinet Building Needs?
Unmatched Technical Expertise: Our seasoned team of experts ensures that every cabinet we manufacture adheres to the highest industry standards. Whether it's marine applications or the food industry, our products consistently meet the most rigorous requirements.

Global Reach, Local Excellence: We proudly serve customers both nationally and internationally. With manufacturing facilities strategically located in Hyvinkää, Vieremä, and Poland, and the whole LAPP network in our usage we are well-equipped to fulfill your cabinet building needs with exceptional quality.

Tailored Solutions: Whether you require custom-made distribution boards designed to your exact specifications or product-specific deliveries, we have the flexibility to cater to your unique demands.
Explore Our Wide Range of Cabinet Building Solutions:
Field Enclosures: Protect your equipment from harsh environmental conditions with our robust field enclosures.

Control Centres: Create centralized control hubs that streamline your operations and enhance efficiency.

Control Desks: Our ergonomic control desk designs ensure comfort and functionality for operators.

Control Panels: Trust our precision-engineered control panels for reliable performance in critical applications.

Terminal Block Enclosures: Safeguard your terminal blocks with our purpose-built enclosures, ensuring optimal connectivity.

Electromechanical Device Assemblies: Benefit from our expertise in assembling electromechanical devices with precision and care.

Energy Chains: Keep your cables and hoses organized and protected with our versatile energy chain solutions.
When you subcontract your box build projects to Lapp Connecto, you gain access to a wealth of benefits, from our cutting-edge manufacturing processes to our unwavering commitment to quality and compliance. Partner with us to elevate your cabinet building experience and achieve superior results for your projects.