An update to our IT systems will take place during weeks 48 and 49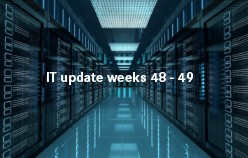 An update to our IT systems will take place during weeks 48 and 49
The update will begin on Thursday Nov 28th at 4 pm (EET) and end on Tuesday Dec 3rd at 8 am (EET).
During this time, unfortunately we will not be able to process or ship orders. Responding to email inquiries will also be limited. The best way to reach us during the system update is by calling us at +358 20 764 63.
We kindly ask you to be prepared for the momentary interruption by sending your orders, quotation requests and other inquiries by Wednesday Nov 27th at 4 pm. Thanks so much for your patience.
With Best Regards,
Lapp Connecto Oy