About us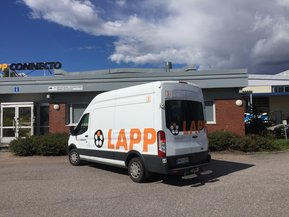 Lapp Connecto Oy manufactures cable and wiring harnesses for demanding machine and equipment. Our product range also includes busbars, busbar trunking systems, control equipment assemblies and testing, and demanding electrotechnical assemblies. With our comprehensive range of services, our customers always get cost-effective solutions according to their needs. The company was founded in 1988. We are located in Hyvinkää and Vieremä in Finland and Grudziądz in Poland.
Key figures in 2020
Lapp Connecto Oy
Turnover EUR 24 million
Staff size 121
Lapp Connecto Polska Sp. z o.o.
Turnover EUR 6,8 million
Staff size 178
Lapp Connecto has a long experience in the manufacture and testing of wiring systems, cable sets and associated control devices. Take a look at our history and become a part of it.
The journey begins
In 1995, the renowned importer of electrical and automation components, SKS Tekniikka, decided to refine its products further and purchased a Hyvinkää-based company, Suomen Johdinvalmiste Oy, that had manufactured conductors since 1988. The production that concentrated primarily on the construction of machines and devices saw rapid growth, necessitating a move to new premises at Varastokatu, Hyvinkää in 1998. In 2000, the manufacture of busbar systems and temperature probes was transferred to Connecto at Hyvinkää.
Period of growth
In 1999, a second factory was commissioned in Otanmäki. In 2008, the production of this factory was transferred to new 2,000 m2 premises in Vieremä. After the end of the recession, the production expanded strongly to wheeled vehicles and heavy equipment. Soon, the production hall was busy manufacturing a wide range of challenging wiring systems and control panels. At the same time, the machine base was broadened and several machines were replaced in order to meet the stricter quality requirements.
In 2005, Suomen Johdinvalmiste Oy purchased the Hyvinkää-based Connecto Oy that also had a very long experience in the manufacture of wiring systems since the early 1980s. Connecto was a renowned manufacturer of challenging and long wiring systems. This transaction brought a lot of new expertise to the company, including its first production unit abroad in Viborg, Russia. In 2006, the above companies merged under the name SKS Connecto Oy.
Factory in Poland
As the EU expanded, a decision was made to transfer all production from Russia to Poland, which was now a part of the EU internal market. The Grudziądz factory started its operations in 2010, and the Viborg factory was shut down in 2012. Three years later, wiring system manufacture operations at Hyvinkää were transferred to the Polish factory. The first major extension of the Polish factory was completed in early 2018, resulting in a total production floor area of 3,800 m2.
Lapp Connecto
SKS Group has represented Lapp Group and collaborated with it since 1964. Lapp Group has also been one of SKS Connecto's major suppliers throughout its history, so it was only natural that Lapp Group became the new owner of Connecto in a business transaction carried out in early 2018. Lapp Group is one of the world's leading cable manufacturers for mechanical engineering applications. As a result. Lapp Connecto can add a lot of value to the electrification of our customer's machines all over the world.